The stirring promise of Lahiru Kumara
13/11/2019
106
A smooth run up and action, searing pace, stumps cartwheeling – a blend that would get most cricket fans' adrenaline shooting. For one reason or another, it is not a sight we Sri Lankans get to witness often. But, seems (hopefully) that could change in the near future.
Growing up in the outskirts of Kandy, Lahiru Kumara's first foray into sport was on the Hockey field. Taking the field for Sri Sumangala Vidayalaya, Kumara, who was in his early teens, was injured when a hockey stick hit his neck. Though not a serious injury, it did require hospitalization – the last straw for his mother, who gave away all his hockey equipment subsequently, paving the way for a different path for her son.
Making the switch to cricket, he was rapidly picked up by Trinity College, Kandy and under Head Coach Sampath Perera, turned into one of the most fearsome fast bowlers in the schools' arena. How often you hear of life's lucky breaks arriving in such strange packages. What seemed like an unfortunate incident, propelled him onto the path which has brought him to the cusp of becoming Sri Lanka's fastest bowler.
Kumara was fast-tracked into the national set up after impressive showings with the Sri Lanka Under 19s, most notably against the England in 2016, where he picked up a match bag of 11 wickets to help the visitors register a win in Northampton in a Youth Test between the sides.
A year later he was steaming in against the likes of Hashim Amla and Faf Du Plessis in Cape Town, on his way to becoming the 2nd youngest Sri Lankan to claim a five-wicket haul in Test Cricket at 19 years and 325 days of age.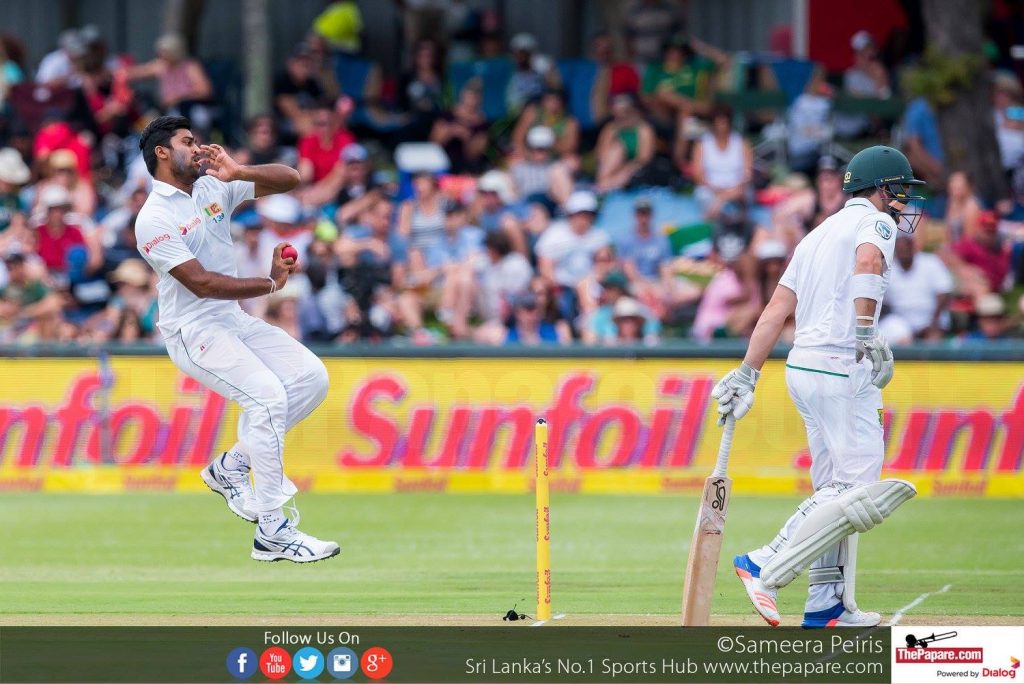 His 1st wicket in South Africa's 1st innings, that of Hashim Amla, was the perfect inswinger – something that comes quite naturally to Kumara – pitching just outside the off stump and whipping through the batsman's defenses to cannon into the stumps. Suffice to say he impressed one and all with his performance against what was then a very very good South African team, especially in the Test arena.
"He was identified at the age of 15. He has done really well at the under-19 level. He always had the pace, but he was a bit short and wild. Young fast bowlers tend to be like that through that period. But then we worked with him on hitting that length, things have fallen in line. He had the natural ability to bowl good inswingers. He's bowling 140 kmph plus. He'll bowl 150 very soon. He's just 19 plus and he's learning. To get six wickets here against one of the best teams was great. He bowled some brilliant balls. If he can get more consistency with that length, he can be a very good bowler," – Champaka Ramanayake (Cape Town, 2017)
Read More : Bowling coach confident Lahiru Kumara will soon hit 150kmph
In Sri Lanka, having a bowler who can clock 140 – 145+kmph is a rarity. Dushmantha Chameera was one to do so, but the lanky pacie never quite settled into the team with a plethora of injuries denting his progress. Kumara on the other hand, who is of a stockier build, has steadily begun chipping away at making the 2nd pace bowler's spot his own in Test cricket. Certainly not since Dilhara Fernando and the early days of Lasith Malinga has Sri Lanka seen a bowler with the aggression and the ability to intimidate batsmen as shown by Kumara. He is not immune to injury, having missed a couple of Tests this year too, but with his build and naturally flowing action, one would think that a long career is in store.
Looking at teams around the world, you realize how valuable genuinely quick bowlers are. Jofra Archer took the world by storm at the Cricket World Cup and then just when you thought he couldn't get any better, he caused all sorts of problems for Australia in the Ashes that followed soon after. Similarly, Lockie Fergason has made a serious mark on limited overs cricket over the last year, while Mitchell Starc has dominated with his intense pace and bounce for a while.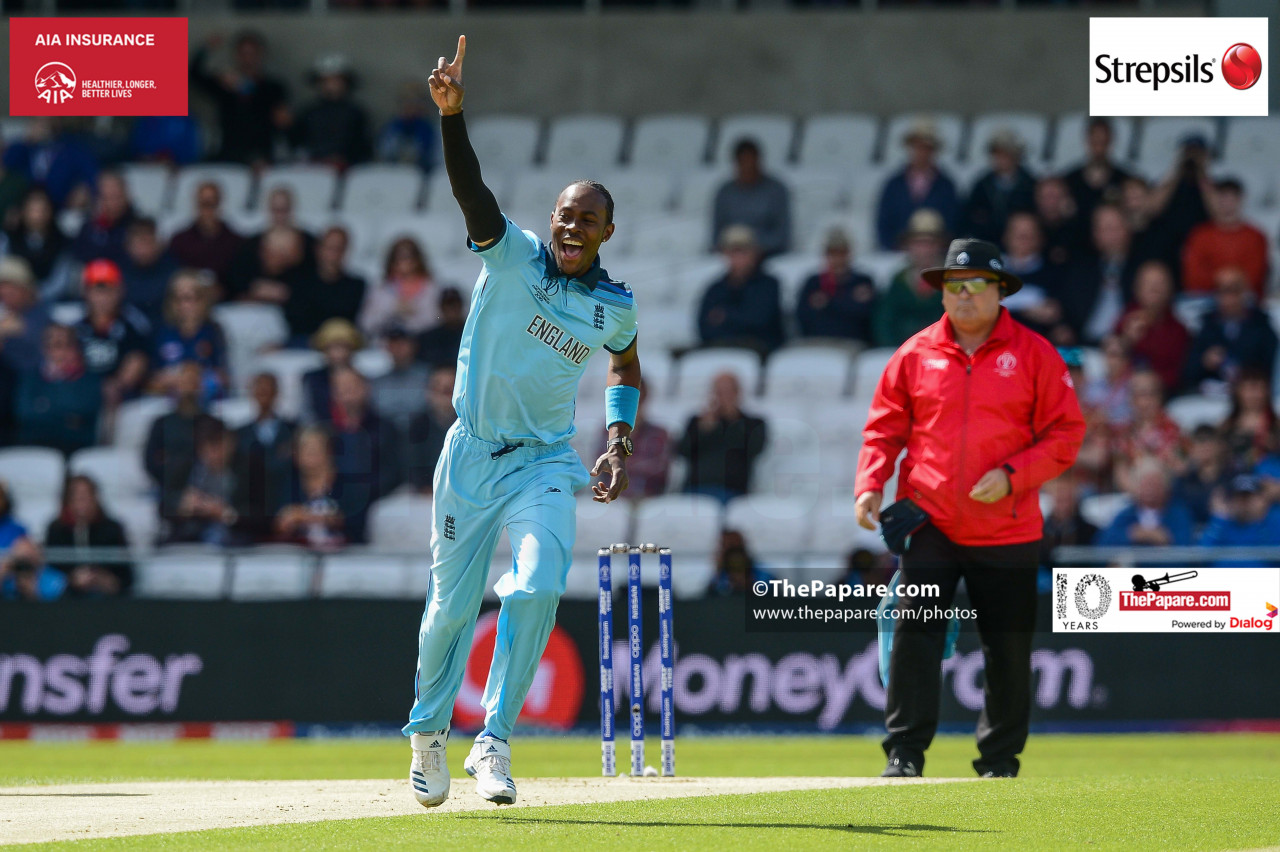 Among the many parallels between Archer and Kumara, is the fact that both have been earmarked as potential superstars in their mid-teens before impressing on the international cricket. But Kumara faces one major obstacle – the conditions in Sri Lanka. With spin being Sri Lanka's main weapon, pitches usually favour the slow bowlers, meaning that the Sri Lankan management have the habit of playing just 1 seamer in Tests for home games. With one spot up for grabs, it is difficult to go past the experienced Suranga Lakmal, who has progressed considerably during the past couple of years – leaving Kumara to warm the benches on many occasions.
Read More : From hockey to fast bowling, Lahiru Kumara's impressive rise
In limited overs cricket, the competition is much tougher, with Kasun Rajitha, Isuru Udana, Nuwan Pradeep all vying for the vacant positions in ODIs alongside Lasith Malinga in T20Is.
When given the opportunity, Kumara has been impressive, more often than not, with little to work with in terms of help from the pitch. As a 19-year-old, he was hitting the 138-142kmph mark on a regular basis, and both he and his then bowling coach Champaka Ramanayake promised that he would be hitting the 150kmph mark soon. Kumara delivered on that promise earlier this year when he produced some fiery spells against the visiting New Zealanders, though sparingly used.
Although Kumara's numbers aren't too flattering, he has 53 wickets at an average of nearly 38 in Tests, 13 wickets at 47 in ODIs and 3 wickets at 32 in T20Is, the influence of a bowler like Kumara goes beyond just the wickets column. With the unerring Suranga Lakmal bowling on one end in Test and the wily Lasith Malinga, Kumara could be the X factor and perfect enforcer for the Lions.
The ICC Test Championship has brought some much-needed context to bilateral Test series, but it also means that if Sri Lanka are to make an impact on the tournament, they are going to have to win overseas. A similar situation has emerged in T20I cricket, with the World Cup looming near in Australia. This is where someone like Kumara would come in handy. The ability to bounce out the batsmen or beat them for sheer pace is a commodity and Sri Lanka would hope that Kumara is the man for the job.
Cricket Features
Features
Layout Content
Single Image Layout